Hello loves! Hope all is well! It's been almost a month since my last post, so sorry! I have missed you so :)! Let me give you a little update about my hectic last month then I'll give you the beauty tips you're here for! Zoe is now just over 20 months and talking up a storm! She has learned so many new words and is looking like she is ready to begin potty training! We found out that our next little bundle on the way is a girl too! So far the plan is to name her Aubree Noelle, but the middle name is still not 100%. I will be having her via c-section Dec. 30 ... yes the day after Zoe was born! I have my Christmas presents every year ... my two little girls! Anyway, I have so many topics I'd like to cover since I haven't written in so long, but today is a short and simple one as a last little hoorah! to say goodbye to summer.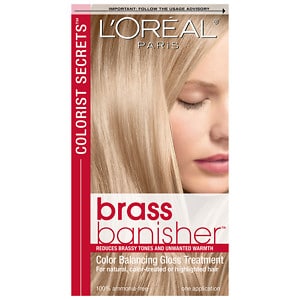 Our topic for today is HAIR ... hair color that is. Summer is the season of blond. Whether natural blond is simply being lightened and brightened by the sun or we are dyeing our tresses a shade of that summertime color, it is common for most people to go lighter in warmer weather. However after enduring three months of sun, sand, chlorine, and so on of summer days that blond bombshell shade may just be looking a bit brassy now, which is NOT a good look! The UV rays everyone tries to soak up to get a nice bronzed tan also destroy blue pigments in color-treated hair, turning your locks to an orangey tinged shade according to
First magazine
. The fix that they recommend? A gloss that restores blue pigments, like
L'Oreal Paris Colorist Secrets Brass Banisher for $10 at Ulta.
It is time to welcome in cooler nights, fall breezes, and to start thinking about an autumn beauty routine! Fix up that blond to make it fall-ready or start thinking about adding low-lights or going a slightly darker hue ... or take the plunge and go super dark and embrace the cool weather and the autumn fashions!
There are a lot of updates to what to look out for this Fall as well! From color trends to materials in clothing and accessories to makeup and nail polish shades, there is some new and exciting stuff coming our way! Keep an eye out for my Fall Fashion posts coming soon and possibly a somewhat in depth look at natural v. gel. v. acrylic nails and what really is best for you!
That's all for now loves! Thanks again for reading!