Happy Hump Day, aka Wednesday, loves! The week is half over ... yay! I hope you're having a great week so far and are enjoying all September's Beauty Week has had to offer. I'm curious if any of you have plans to recreate my Philadelphia Eagles makeup look or even create your own for your teams colors? Have any of you ran out to try the Sally Girl mascara? If you haven't, go do it! It really is great! I hope you enjoyed my information from yesterday on all the different nail polishes and some tips on telling the duds from the deals and maybe I let some of you know about a great, inexpensive nail polish brand!
Today's post, as I'm sure you already know, is "Wellness Wednesday", which is quickly becoming my favorite. It's my one day a month where I devote an entire post to overall wellness and tips for you that I find generally from my
First for women magazine.
I love to share these interesting tidbits I find with my readers and share with you all an AMAZING, inexpensive magazine that offers so much, for us normal people especially! Don't forget to check them out the next time you're standing in line at the store and give them a go! The subscription is TOTALLY worth it!
Well without any more discussion, I'm going to begin Wellness Wednesday with a tip you can use some of yesterday's post for:
Wellness Wednesday (#3 September 12, 2012)
(Tips from First for women magazine Sept. 10 2012 edition)
1. Hate it when all your keys look the same and it takes you 10 minutes to get in the door after trying your whole ring to find it was the last key?
Don't mix them up anymore with a simple, essentially costless idea: NAIL POLISH!
Simply take a different color for each key (any polish you have lying around will do) and paint the top portion. Let it dry entirely then paint the other side. Finish with a top coat or even a paint sealant and you're good to go! (pg. 6)
2. Two birds, one stone to ease the pain of sunburn? Yes, please! We all know the AMAZING wonders aloe works for tight, dry, painful sunburned skin.
Try filling an ice cube tray with the gel you buy for sunburns and let freeze!
The cold and aloe combined are a treat to such sensitive skin! (pg. 6)
3. Hate that tight, rough feeling of brand new jeans? Try this!
The first time you wash a new pair of jeans, add 1/2 cup of white vinegar and 1/4 cup of baking soda to the wash.
First magazine tells us "The vinegar's acetic acid breaks down the starch (which manufacturers add during weaving to keep jeans looking crisp) while the alkaline baking soda dissolves the residue left behind, softening the fabric. Just be sure to wash the jeans inside out to prevent fading." (pg. 15)
4.
Ever struggle with varicose veins?
Want to erase them without surgery?
Eat more basil!
First tells us "to reduce the appearance of dark blue veins, season dishes with basil. According to a study in the
Journal of Vascular Research
, the vitamin K in this herb helps prevent minerals from coating vein walls and clogging blood flow-which stops blood from pooling downward and keeps veins from stretching and bulging." (pg. 29)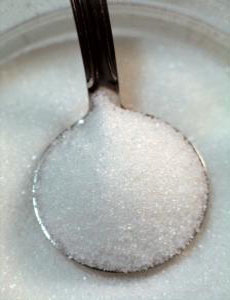 5. Special event tomorrow and just found a pimple?
Clear a blemish overnight!
First tells us that simply "mixing 1 tsp. of
sugar
with a few drops of water, then dabbing on the affected skin, and leaving it to sit while you sleep" will make it disappear! "The sucrose will inhibit the growth of bacteria, reducing redness and swelling by morning." (pg. 86)
Well there you have it, my loves! I hope you enjoy Wellness Wednesdays posts as much as I do! I just love finding new uses for things sitting at home, finding simple cures and fixes using things you'd never think of, and innovative ideas to solve little problems without dishing out cash. I hope you find these posts helpful and don't forget to give First magazine a try!